---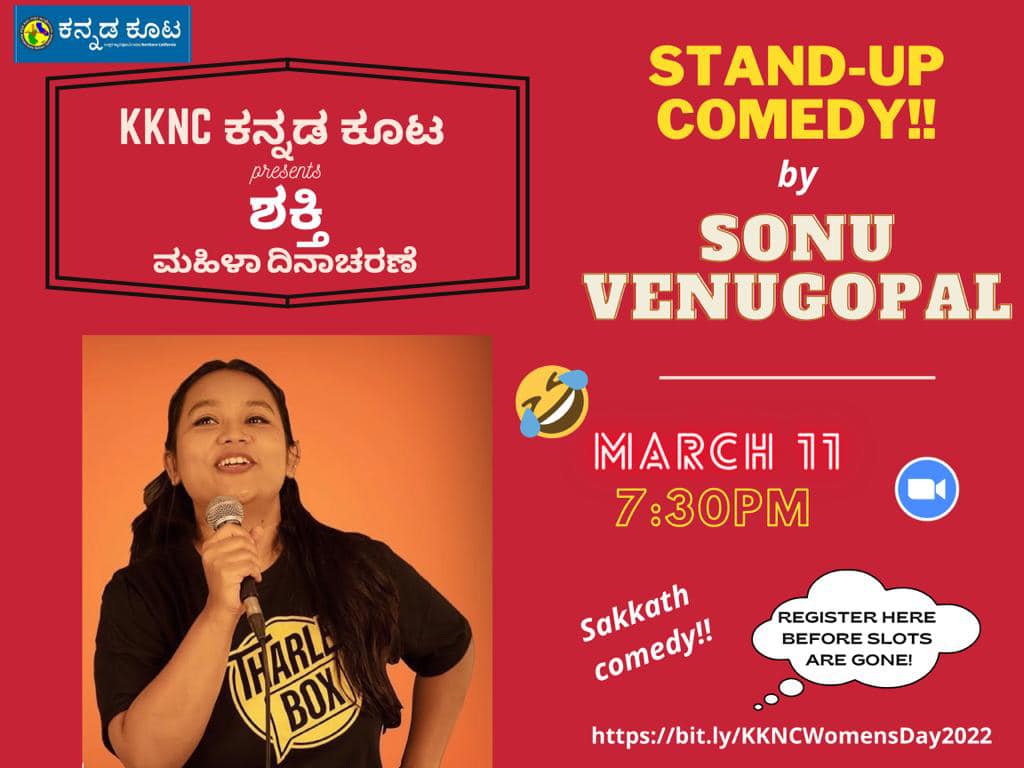 In the spirit of celebrating and supporting women empowerment, KKNC presents "Shakthi", an online event on March 11 at 7:30 pm PT, as a gift to all KKNC members, especially women.
In this event, we are bringing three things that we know most women will appreciate: insights they need to secure their financial future, inspiration to reach their personal/professional goals, and a chance to have a hearty laugh.
We will have a Stand-up comedy by Sonu Venugopal, winner of "Best Entertainer" award at the Karnataka Woman Achievers Awards, a mother, and a total family entertainer!
Make sure to register soon before the slots are gone! PS: You can pose a question in the form. Link: https://bit.ly/KKNCWomensDay2022
೧೧೧ ನೇ ಅಂತಾರಾಷ್ಟ್ರೀಯ ಮಹಿಳಾ ದಿನಾಚರಣೆ ಇದೋ ಬರುತ್ತಿದೆ . ಮನೆಮನೆಯಲ್ಲಿ ದೀಪ ಉರಿಸೋ ಶಕ್ತಿಗೆ 'ಸ್ತ್ರೀ ಎಂದರೆ ಅಷ್ಟೇ ಸಾಕೆ?' ಎಂದು ಕವಿಗಳೇ ಕೇಳಿರುವಂತೆ, ಮಹಿಳೆಯನ್ನು ಸಂಭ್ರಮಿಸಲು ಪದಗಳೂ ಕಡಿಮೆ, ಅವಳಿಗೆ ಏನು ಉಡುಗೊರೆ ನೀಡಿದರೂ ಕಡಿಮೆ! ಕನ್ನಡ ಕೂಟ ಈ ವಿಶೇಷ ದಿನವನ್ನು March 11, 7:30 ಕ್ಕೆ ನಿಮ್ಮೊಂದಿಗೆ ಆಚರಿಸಲು ಸಜ್ಜಾಗಿದೆ. ಕೆ ಕೆ ಎನ್ ಸಿ ತನ್ನ ಸದಸ್ಯರಿಗೆ, ಅದರಲ್ಲೂ ಮಹಿಳೆಯರಿಗೆ 'ಶಕ್ತಿ' ಎಂಬ ಶೀರ್ಷಿಕೆಯಡಿ ಆನ್ಲೈನ್ ಕಾರ್ಯಕ್ರಮವನ್ನು ಉಡುಗೊರೆಯಾಗಿ ತರುತ್ತಿದೆ. ಸೀಮಿತ ಅವಕಾಶ, ತಡ ಮಾಡದೆ ಈಗಲೇ ನೊಂದಾಯಿಸಿಕೊಳ್ಳಿ!

Sankranthi Sourabha was a successful event! We had a great lineup of programs, including some that were one-of-a-find for an online event. In case you missed the program live or want to watch it again, here are the links: https://youtu.be/zVlJBirSl2A and https://fb.watch/bs6BWBvSmk/