---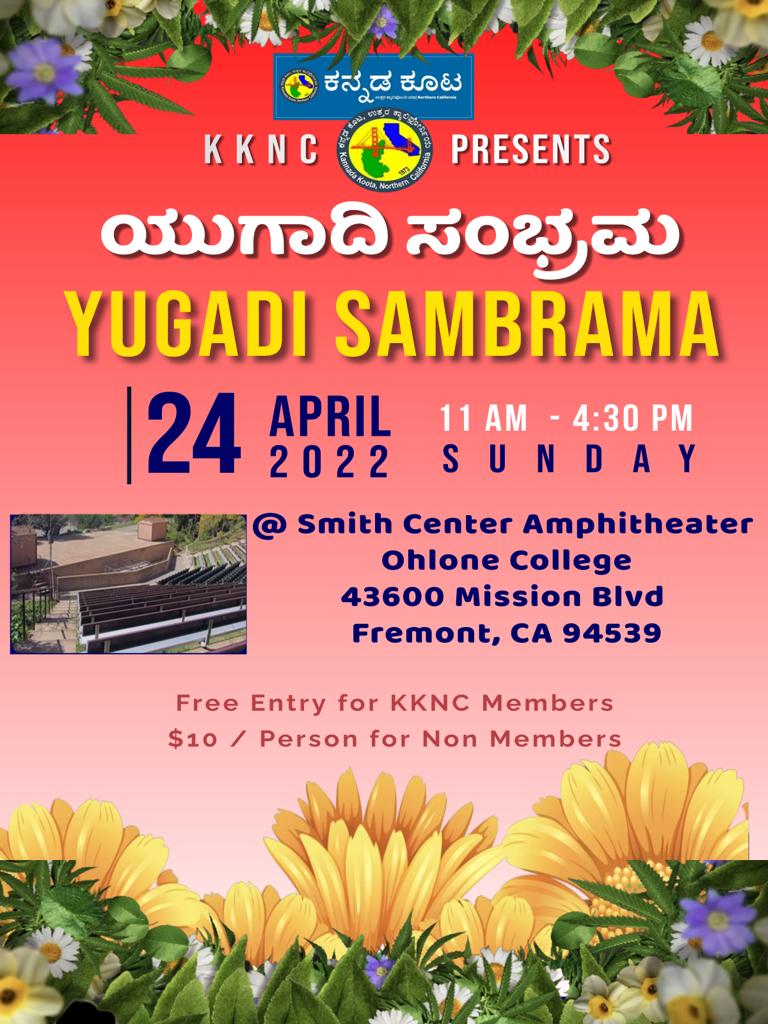 KKNC invites everyone to our first in-person KKNC event of 2022: Yugadi Sambhrama! Every year this time, Mother Nature shows us how to resurrect oneself. "The cold and dark winter days were meant for you to muster sufficient energy to renew yourselves," she seems to be telling us. So, it is only apt that we celebrate this year's Ugadi surrounded by Mother Nature's nudge for rejuvenation - in an outdoor amphitheater!!
Date: Sunday, April 24
Venue: Smith Center Amphitheater, Ohlone College, 43600 Mission Blvd, Fremont, CA 94539
Time: 11:00 AM to 4:30PM
KKNC 2022 ರ ನಮ್ಮ ಮೊದಲ ವ್ಯಕ್ತಿತಃ ಪಾಲ್ಗೊಳ್ಳಬಹುದಾದ KKNC ಈವೆಂಟ್‌ಗೆ ಎಲ್ಲರನ್ನು ಆಹ್ವಾನಿಸುತ್ತದೆ. ಯುಗಾದಿ ಸಂಭ್ರಮ! ಪ್ರತಿ ವರ್ಷ ಈ ಸಮಯದಲ್ಲಿ, ಪ್ರಕೃತಿ ಮಾತೆಯು ನಮಗೆ ಹೇಗೆ ಪುನರುತ್ಥಾನಗೊಳ್ಳಬೇಕೆಂದು ತೋರಿಸುತ್ತಾಳೆ. "ಚಳಿಗಾಲದ ದಿನಗಳು ಶೀತ ಮತ್ತು ಕತ್ತಲೆಯಿಂದ ಕೂಡಿದ್ದವು, ಆದ್ದರಿಂದ ನೀವು ನಿಮ್ಮನ್ನು ನವೀಕರಿಸಲು ಸಾಕಷ್ಟು ಶಕ್ತಿಯನ್ನು ಪಡೆದುಕೊಳ್ಳುತ್ತೀರಿ," ಎಂದು ಅವಳು ನಮಗೆ ಹೇಳುತ್ತಿರುವಂತೆ ತೋರುತ್ತಿದೆ. ಆದ್ದರಿಂದ, ನಾವು ಈ ವರ್ಷದ ಯುಗಾದಿಯನ್ನು ಪ್ರಕೃತಿಯ ಮಡಿಲಲ್ಲಿ ಆಚರಿಸುವುದು ಸೂಕ್ತವಾಗಿದೆ - ಹೊರಾಂಗಣ ಆಂಫಿಥಿಯೇಟರ್‌ನಲ್ಲಿ !!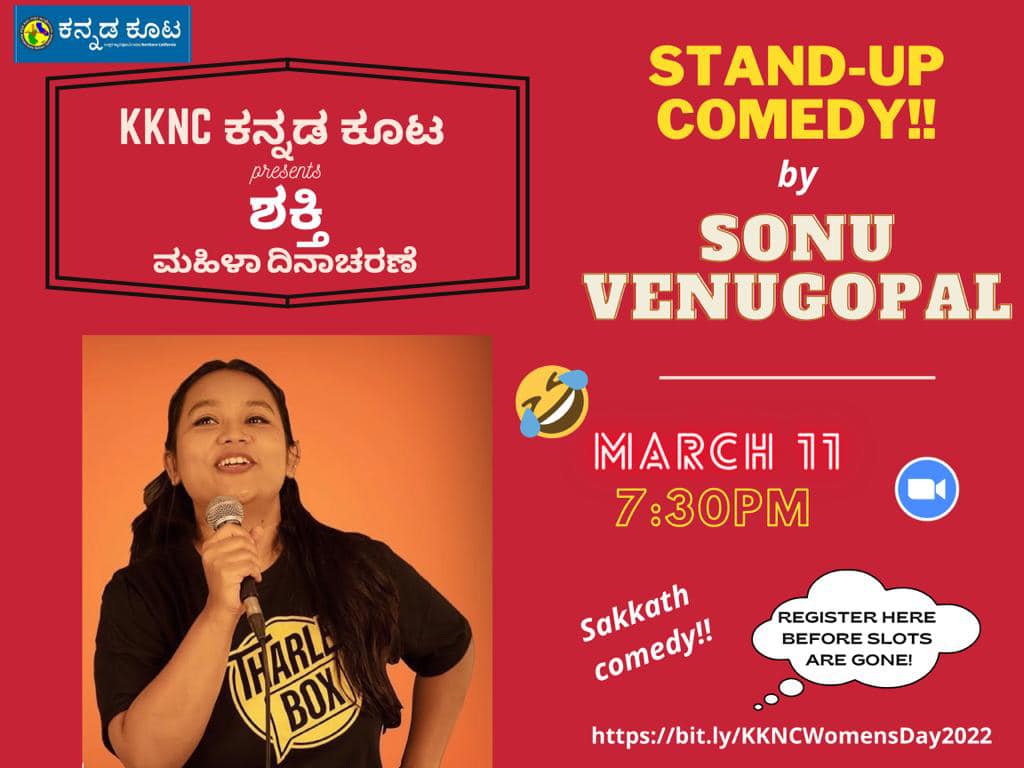 In the spirit of celebrating and supporting women empowerment, KKNC presents "Shakthi", an online event on March 11 at 7:30 pm PT, as a gift to all KKNC members, especially women.
In this event, we are bringing three things that we know most women will appreciate: insights they need to secure their financial future, inspiration to reach their personal/professional goals, and a chance to have a hearty laugh.
We will have a Stand-up comedy by Sonu Venugopal, winner of "Best Entertainer" award at the Karnataka Woman Achievers Awards, a mother, and a total family entertainer!
Make sure to register soon before the slots are gone! PS: You can pose a question in the form. Link: https://bit.ly/KKNCWomensDay2022
೧೧೧ ನೇ ಅಂತಾರಾಷ್ಟ್ರೀಯ ಮಹಿಳಾ ದಿನಾಚರಣೆ ಇದೋ ಬರುತ್ತಿದೆ . ಮನೆಮನೆಯಲ್ಲಿ ದೀಪ ಉರಿಸೋ ಶಕ್ತಿಗೆ 'ಸ್ತ್ರೀ ಎಂದರೆ ಅಷ್ಟೇ ಸಾಕೆ?' ಎಂದು ಕವಿಗಳೇ ಕೇಳಿರುವಂತೆ, ಮಹಿಳೆಯನ್ನು ಸಂಭ್ರಮಿಸಲು ಪದಗಳೂ ಕಡಿಮೆ, ಅವಳಿಗೆ ಏನು ಉಡುಗೊರೆ ನೀಡಿದರೂ ಕಡಿಮೆ! ಕನ್ನಡ ಕೂಟ ಈ ವಿಶೇಷ ದಿನವನ್ನು March 11, 7:30 ಕ್ಕೆ ನಿಮ್ಮೊಂದಿಗೆ ಆಚರಿಸಲು ಸಜ್ಜಾಗಿದೆ. ಕೆ ಕೆ ಎನ್ ಸಿ ತನ್ನ ಸದಸ್ಯರಿಗೆ, ಅದರಲ್ಲೂ ಮಹಿಳೆಯರಿಗೆ 'ಶಕ್ತಿ' ಎಂಬ ಶೀರ್ಷಿಕೆಯಡಿ ಆನ್ಲೈನ್ ಕಾರ್ಯಕ್ರಮವನ್ನು ಉಡುಗೊರೆಯಾಗಿ ತರುತ್ತಿದೆ. ಸೀಮಿತ ಅವಕಾಶ, ತಡ ಮಾಡದೆ ಈಗಲೇ ನೊಂದಾಯಿಸಿಕೊಳ್ಳಿ!