---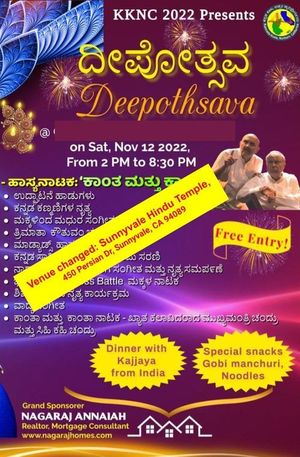 Our earlier planned venue has a power outage and we now have to move the program to new Venue.
Venue: Sunnyvale Hindu Temple, 450 Persian Dr, Sunnyvale, CA 94089
We will have the same line up or programs!
Food:
Chapathi, Kurma, Rice, Vade, Kajjaya from India - $10
Noodles,Paani puri - $5
Pizza
Tea, Coffee…
Parking is free but limited. Please carpool if you can.
Entry is free for all! Looking forward to seeing you all!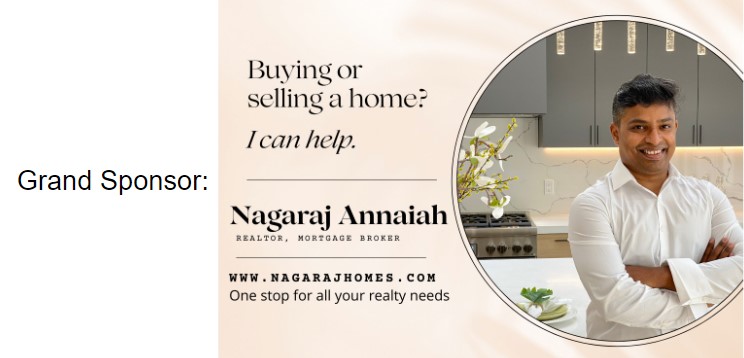 ಕನ್ನಡಕೂಟದ ೨೦೨೨ ರ ದೀಪೋತ್ಸವ ಕಾರ್ಯಕ್ರಮ ನವೆಂಬರ್ ೧೨ ರಂದು ಗನ್ ಹೈಸ್ಕೂಲ್ ಥೀಯೇಟರ್ ನಲ್ಲಿ ನಡೆಯಲಿದೆ.
Our final major event of the year, Deepothsava 2022, is all set to bring down the house!
We will have exciting programs performed by local talents followed by a very popular comedy-drama "Kantha mattu Kantha" performed by Sihi-Kahi Chandru and Mukhya Mantri Chandru!
Date and Time: November 12, 2PM onwards
Venue: Gunn Highschool, Palo Alto
Entry is free for all!