You are hereDeepothsava Venue changed!
Deepothsava Venue changed!
---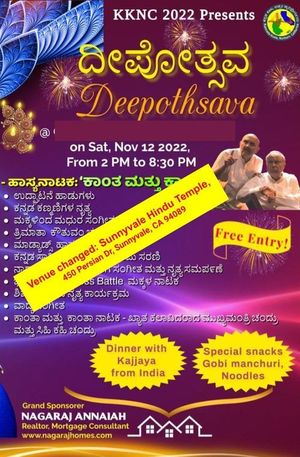 Our earlier planned venue has a power outage and we now have to move the program to new Venue.
Venue: Sunnyvale Hindu Temple, 450 Persian Dr, Sunnyvale, CA 94089
We will have the same line up or programs!
Food:
Chapathi, Kurma, Rice, Vade, Kajjaya from India - $10
Noodles,Paani puri - $5
Pizza
Tea, Coffee…
Parking is free but limited. Please carpool if you can.
Entry is free for all! Looking forward to seeing you all!