You are hereMeet & Greet with Raj Shetty, Music competition finale
Meet & Greet with Raj Shetty, Music competition finale
---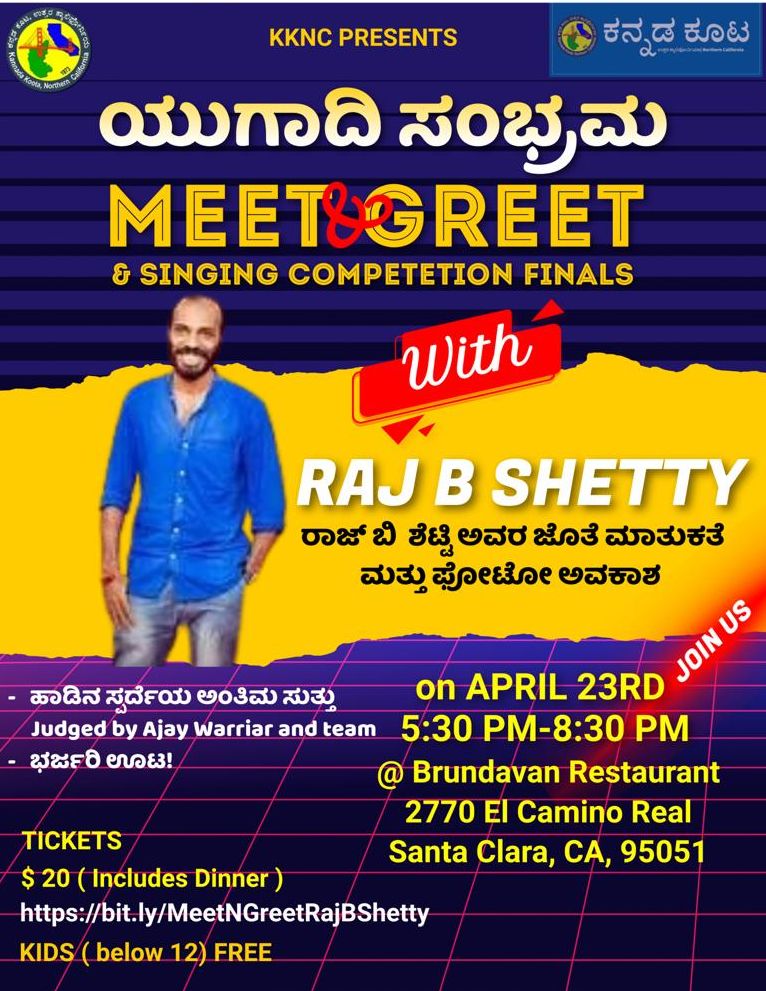 Here is an amazing opportunity to meet the versatile and highly-talented Raj B Shetty of "Ondu Motteya Kathe" and "Garuda Gamana Vrishabha Vahana" fame! KKNC has organized a 'Meet & Greet' event with him.
During this event, we will also have our music competition finale judged by the multi-talented and versatile singer, Ajay Warriar, and his team.
Don't miss this wonderful opportunity to listen to some good singing, interact with our guest artists in a small setting and have your photo taken with them!
"ಒಂದು ಮೊಟ್ಟೆಯ ಕಥೆ" ಮತ್ತು "ಗರುಡ ಗಮನ ವೃಷಭ ವಾಹನ" ಖ್ಯಾತಿಯ ಬಹುಮುಖ ಮತ್ತು ಪ್ರತಿಭಾವಂತ ರಾಜ್ ಬಿ ಶೆಟ್ಟಿ ಅವರನ್ನು ಭೇಟಿಯಾಗುವ ಅವಕಾಶ ಇಲ್ಲಿದೆ! ರಾಜ್ ಬಿ ಶೆಟ್ಟಿ ಅವರೊಂದಿಗೆ ಮೀಟ್ ಅಂಡ್ ಗ್ರೀಟ್ (ಭೇಟಿ ಮಾಡುವ) ಕಾರ್ಯಕ್ರಮವನ್ನು ಕೆ ಕೆ ಎನ್ ಸಿ ಆಯೋಜಿಸಿದೆ.
ಅದೇ ಕಾರ್ಯಕ್ರಮದಲ್ಲಿ ನಾವು ಆಯೋಜಿಸಿರುವ ಸಂಗೀತ ಸ್ಪರ್ಧೆಯ ಅಂತಿಮ ಸುತ್ತು ನಡೆಯಲಿದೆ. ಬಹು-ಪ್ರತಿಭಾವಂತ ಗಾಯಕರದ ಅಜಯ್ ವಾರಿಯರ್ ಮತ್ತು ಅವರ ತಂಡದವರು ಆ ಸುತ್ತನ್ನು ನಿರ್ಣಯಿಸಲಿದ್ದಾರೆ.
ನಮ್ಮ ಅತಿಥಿ ಕಲಾವಿದರೊಂದಿಗೆ ಮಾತಾಡುವ, ಚಿತ್ರಗಳನ್ನು (ಫೋಟೋ) ತೆಗೆದು ಕೊಳ್ಳುವ ಈ ಅವಕಾಶವನ್ನು ಕಳೆದುಕೊಳ್ಳಬೇಡಿ.
Date: Saturday, April 23rd, 5:00 to 8:00 PM
Venue: Brundavan Restaurant, 2770, Santa Clara - 95051
Entry fee: $20 (dinner included)
Free for kids below 12 years
Tickets: https://bit.ly/MeetNGreetRajBShetty